Elena Foschi
Young graduated in Communication Sciences, workes as graphics, copywriter, translator and coordinator of production. Dance, art, anime and manga occupy much of her free time and she has always been passionate about games.
Francesco Berni
Francesco is a computer technician who play roleplay games since his 14 years. A few years later, got in touch with the world of indie games loving it and from some years is working with Narrattiva during the fairs to spread the good game and for the glory.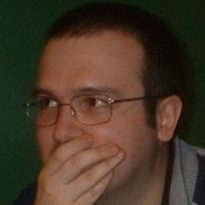 Luca Velluttini
Passionate about RPG away from D&D Red Box, thanks to Narrattiva discovers another way of playing. He works as a translator and reviewer texts. In his free time he is president of Ludica NoFerPlei Association of Reggio Emilia, devoted to the board game.
Michela Da Sacco
Professional illustrator and cartoonist, works since 2002 for various Italian and US publishers. Since 2011 he works with all major Italian comics publishers. She collaborates with Narrattiva as an illustrator. Apart from the illustration and the art of comics, her passions are cinema and role playing indie games.